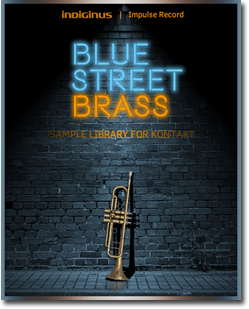 Impulse Record and Indiginus Present – Blue Street Brass
For Kontakt 5 Full Version
Reg $79
1.5 GB Download
This library requires the Full Retail version of Kontakt 5 to work correctly.
IT IS NOT FOR USE IN KONTAKT 5 PLAYER!
Still not sure?  More on this.
Impulse Record, a Grammy considered household name in the recording industry for convolution reverb, has partnered with Indigunus to create a unique vintage brass collection –
Blue Street Brass
. The instrument samples and convolution files have all been recorded and processed in the studios of Impulse Record. Blue Street Brass is a unique product offering the user the ability to dial in sounds from the 1920s – 30s, etc not only in playing style and capture, but by using Impulse Record's impressive convolution library of vintage mics and spaces. Want your lead trumpet or brass section to sound like you're playing in a 1940s hall – no problem. Dial in the specific mic from that era, along with the hall or ambiance and you're there – just about anyways!
The articulations of each instrument were recorded in 96/24 resolution with an emphasis on recording each instrument in a way to be authentic to the time period. You want a lead trumpet to sound like it is coming from the golden age of jazz, you've got it. Also included in the library are a variety of accurate film and TV instrument articulations that lend themselves well to TV drama, film, trailers, etc.
This unique brass library is available now and can be purchased Here
Instruments Included:
1920s Trumpet 1
Trumpet 1 Plunger Mute
Mellow Plunger
1920s Trumpet 2
Trumpet 2 Harmon Mute
Trumpet 2 Cup Mute
Soaring Trumpet (Trpt 2 ff with vib)
1905 Orchestral Cornet
1907 Cornet Lt. Vib
1907 Cornet St Mute
Flugelhorn
Euphonium 1894
Saxhorn 1865
Mellophone 1930s
1908 Trombone (vib and non-vib)
Brass Ensemble
Low Brass Ensemble
High Brass Ensemble
Bugle in G (WWII era)
Bugle in D (WWII era)
Civil War Bugle
Tuba 1900
Specifications:
Key velocity layers
1 to 5 depending on instrument.
Microphone IR effects
12 authentic mics from the 1920s to 1980s.
Reverb IR effects
12 great reverbs.
Legato effect
Custom new scripted legato effect.
(no sampled transitions)
Samples
1.9 GB of samples, 1.4 GB compressed.
System Requirements
Kontakt 5.5.2 or higher. Full version.
Will run in demo mode only in Kontakt Player.