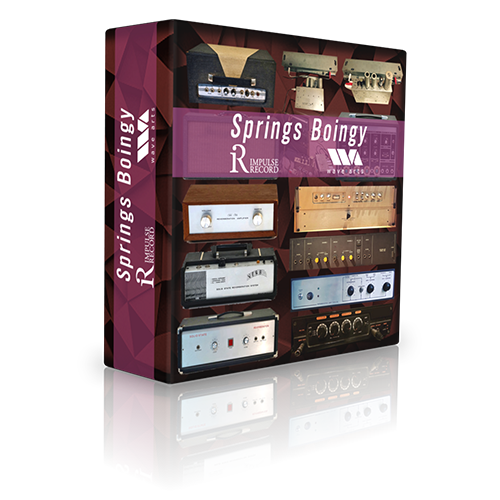 List Price $34.95
Your Price $24.95
You Save $10.00
Springs Boingy Vintage Spring Reverb – 13 units – 55 Files – 164 megs
3 Spring
MP-4
62-901
Rev Plus
659
K-10
K-10 Unit 2
Fos 3180
636
844
Pro Verb
RX 100
EC 100
Sampled in 6 Different Countries including: Britain, Canada, Netherlands, New Zealand, Scotland, USA. Numerous springs that
include Mono, Stereo, EQ'd and Hybrid Versions. Many pieces of gear listed have been used on major recording artists, albums
and Grammy productions.
This library contains spring units of 1 spring, 2 springs and 3 springs, along with some really historical units used on
countless hits. Our entire springs library contains 36 different spring units. For many who grew up in the era of plates and
springs, most were drawn to plates for very good reasons. After careful consideration and reaching out to studios around the
globe for the most interesting vintage springs that could be found and acoustically captured, some of these springs are just
absolutely gorgeous with the spring and electronics of the units, really creating some fantastic sounding reverbs – that 3D
audio quality that many engineers aim to find. If you've always fancied yourself a plate reverb individual, this library will
definitely change your mind.
There are springs of all kinds and yes, there are some boingy, (gotta have a few for that vintage guitar, lead vocal and organ
sound right!) mono, stereo, along with a variety of lush
That vintage guitar sound will be had with one of the boingy springs – no doubt. There are a good number of variations, in the
boingy category, so check them all out. If you want to add spatial qualities to an instrument, or perhaps the lead vocal, even
while applying a plate or digital reverb on top, try placing one of our hybrid spring files and pull it back from the top reverb
and you'll add some of that 3D acoustic magic. Also try applying a shorter Austrian spring and you'll hear additional front end
"reflections," also yielding to a more 3D sound.