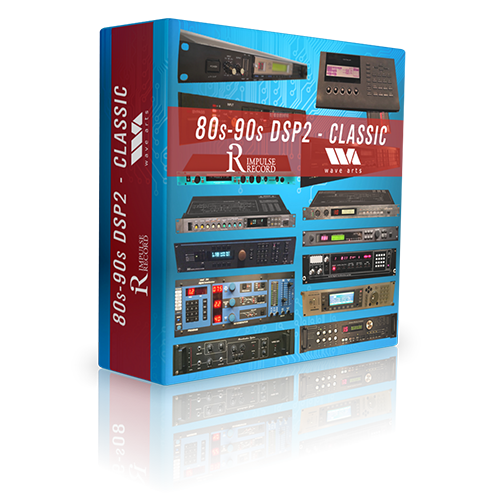 List Price $59.95
Your Price $44.95
You Save $15.00
Classic DSP Gear, as the name implies, was the go to for many studios back in the 80s and 90s, who thrived on solid pieces of vintage DSP gear,
that didn't totally break the bank and were dependable day in and day out with great sounding vintage DSP verb algorithms.  
Classic Gear – 824 files, 1.29 Gb
RMX-16
DRP-15
VRS-23
DP-4
DRV 2000
KSP8
Mod 200
Mod 300
Rock (Guitar FX unit)
R-880
SDE-3000
SRV-2000
DPS V77
R 7
To obtain these files, Impulse Record worked with studios from around the globe and partnered with only those studios with a
track record of quality, who understood the fine nuances of convolution reverb and who worked with many legendary artists.
Some of the studios we worked with are located in Australia, Atlanta, Brooklyn, California (numerous studios), Detroit, England,
France, Germany, Spain, South Carolina, The Netherlands, Greece, Finland, Russia, Nashville and many others.
These vintage DSP reverb files are all 96/24, with some being initially recorded at lower rates, with many understanding the progression in the
industry, with some units going pretty far back when A/D converters we're still "a work in progress" with sampling and bit
rates being lower – and really it still is, as higher and higher sampling and bit rates are coming into play. Some units had
better filters and general filtering than others and so it was key to use not only the highest quality sweep tone, but more
importantly, the correct sampling and bit rate sweep tone to avoid unintended and punctuated aliasing.
It should be noted, that to make files easier to use and pull up, that we gave artificial names, where names were not available
to us. Many early units simply didn't have names that popped up. This helps the user to quickly identify at least "ball park"
of what these IRs sound like. In addition, to make these libraries easier to distribute, market and to balance library sections,
we may have put what you consider to be a Pro level unit, inside the Work Horses library content, etc. We did our best to a
uthentically split the libraries up into these three categories, but someone's idea of this or that unit in theory, may be in an
alternate folder. And then, one has to consider Pro Level at a certain point of time, might be different in the 90s vs the 80s…
So taking everything into consideration, that's how these folders or library content were conceived. In any event, there's a
ton of gear at great pricing, so go ahead and purchase the complete bundle and have them all!